GCN - GREEN CITY NETWORK
http://www.greencity.com
MISSION STATEMENT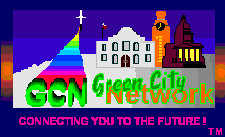 GCN - Green City Network's goal "Connecting you to he Future" is the way of transforming Knowledge and Information into Truth.
In a world of great mind-wash Green City Network hopes in a small way to enable Humankind to come out of its delusion.
Green City Network Provides these services:
Web Hosting
Web Page design
Multi-Media Consulting
Computer Repair
Network Consulting
News Commentary
Internet Broadcasts
Retailing
Advertising

The GCN Logo has four major symbols. The State Capitol Building of Texas signifies the importance of government but not its all importance. The Main Building of the University of Texas lighted in orange represents not a sports win but instead that education's number #1 goal should be the attainment of Truth. The Alamo stands for the idea that sometimes even when all seems hopeless one must stand on principles. Last but foremost is the star from which the light of the world streams real meaning of an adherence to natural laws not men's laws.
- George Butler
gbutler@greencity.com
Bus 512 892-1128
Fax 512 892-5645